Leading Image Editing Services Provider Company
About Retouching Zone
Retouching Zone is a leading global provider of professional image editing services, including a range of clipping path solutions. Since our inception in 2013, we have edited millions of images for over 1600 clients across the world. Our skilled team of over 350 designers operates out of our production house in Bangladesh, equipped with the latest Adobe software tools for photo editing.
We pride ourselves on our ability to achieve 100% client satisfaction with our hand-made, quality-driven clipping works.
Unrivaled Quality: Your Vision, Our Mission
At Retouching Zone, we understand the importance of image quality in today's digital age. The digital world moves fast, and so do we. Our mission is to ensure that your images are not just good, but exceptional.
We are driven by the passion for the art of image editing, and it is this passion that ensures we deliver unparalleled quality in every project. Our commitment to quality is not just a slogan; it's a promise we make to each client.
When you start Outsourcing Product Photo Editing Services to us, you're not just getting an editing service; you're getting a partner dedicated to bringing your vision to life. Get Started Today!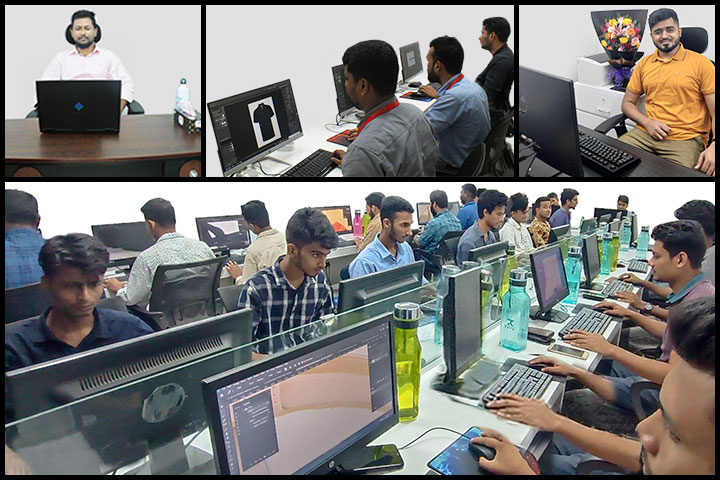 Expertise that Inspires Confidence
Our team of skilled professionals is our greatest asset. With extensive experience and proficiency in tools like Adobe Photoshop and Lightroom, our team is equipped to handle any image editing task. Our experts spend hours meticulously editing each image, ensuring that every detail is just perfect.
We are not just technicians; we are artists. Every image we work on is a canvas to us, and we paint it with the utmost care and precision. We don't just edit images; we transform them, breathing life into every pixel.
Range of Services
Retouching Zone provides image editing services for photographers, brands, photo studios, and online retailers. We offer a wide array of services including professional cutout, background removal, color correction, shadow making, retouching, and cropping as required. We also specialize in 3D ghost mannequin, photo blending, and photography mistake fixing. Here we edit a diverse range of images including architecture, automotive, jewellery, furniture, and eCommerce photos.
Client Support
Client satisfaction is our top priority. We provide live chat, phone call, and email support, ensuring that you can contact us anytime 24/7. You can also send us your instructions with your product images, as we offer customizable image editing.
Privacy and Delivery
We respect your privacy and ensure the security of your images. All images are permanently deleted after 30 days, and we never share your personal data with third parties. Our usual delivery time is 12-24 hours, focusing on guaranteed image output quality and client happiness first.
Pricing and Payment
Our pricing per image starts at $0.24 US. We offer monthly payments for our regular clients, and you can pay us by credit card or PayPal, with any amount purchased. We also offer a free trial for new customers, where we edit two photos for free and provide a rough estimation of the precise pricing per image.
With our commitment to quality, speed, and customer satisfaction, Retouching Zone is here to meet all your image editing needs. Whether you need to process a large number of images for an e-commerce store, a marketing company, or personal use, we have the expertise and tools to deliver outstanding results. Get in touch with us today and experience the best in image editing services.
A Reputation Built on Trust and Excellence
Over the years, we have built a reputation as one of the most trusted image editing outsourcing companies globally. We have served clients from various industries across the globe, consistently delivering quality that exceeds expectations.
Our reputation is a testament to our commitment to excellence. We don't just strive to meet your expectations; we aim to surpass them. This commitment to excellence is what sets us apart from other companies offering outsource image editing services.
At Retouching Zone, we believe in building relationships, not just client lists. Here we see every project as an opportunity to forge a lasting partnership with our clients. We don't just want to be your service provider; we want to be your partner in success.
When you choose us as your partner in image editing, you're choosing a team that genuinely cares about your success. We work closely with you to understand your needs and deliver results that align with your vision.
Outsourcing Made Easy and Efficient
Outsourcing your image editing needs shouldn't be a hassle. At the Retouching Zone, we make the process easy and efficient. Our streamlined processes ensure that you get your images on time, every time.
After choosing a outsource photo retouching services to us, you're choosing efficiency. We respect your time, which is why we ensure that every project is completed within the given time frame.
Ready to Transform Your Images?
---
If you're ready to take your images to the next level, we're here to help. With our outsource image editing services, you can be assured of quality that inspires and impresses. Join the ranks of our satisfied clients and discover the Retouching Zone difference. Contact us today and let's start turning your vision into reality.