The Best Shoes photography editing Services
Do you want to attract targeted client and drive organic traffic at your shoe online store? You must conform that the images look pretty. Retouching Zone, outsources shoe image editing services. Our footwear photo editing services for footwear manufacturing companies produce different ways. When our product photo editor team will complete their work and deliver images. After then shop manufacturing companies will get the image so fascinating and attractive.
Now let's talk about the outsourcing shoe image editing services. Retouching Zone is the best professional shoe photography editing service provider. Outsourcing product photo editing services & photo retouching at a cheap price for shoe online store. And our e-commerce photo editors are experts at enhancing your footwear pictures, as per client demands.
Shoe Image Editing Services:
Shoes

photo background remove

Removing the shoe photo reflections
Photo Retouching services
Color correction image
Shadow creation image
Resizing/Crop the photo
Editing pictures and giving them a 3D look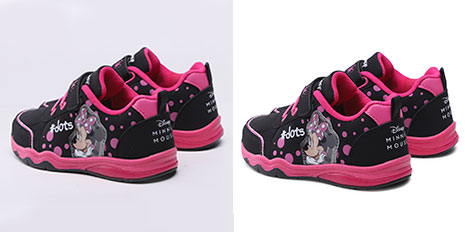 White background service: Change the background of a shoe photo to White (RGB 255,255,255).
Shadow creation services: There are three types of shadow in Photoshop (Drop, Natural and Reflection shadow). The most popular service drops shadow. Retouching Zone has an expert team to work on it.
Image retouching services: Shoes product photo retouching for photo pop. Remove bad reflection on product images requires impressing your client. We will clear the dust and enhance the images with shoe retouch.
Color correction service: Color correction, Contrast adjustments, color/Light balancing etc.
Cropping/Resize images: Our photo editor's team crop and resize all the shoes product image same size.
Why & Who Need product Photograph Editing?
E-commerce owner and retail markets need to be product photo editing. As they are shoes online shops owner the customer can only see the shoe pictures. That's why footwear online companies need to view attractive images of their shoe products. Then the clients get attracted to buy the shoes product.
E-commerce Product Photo Editing Services
The designers who edit shoe product image editing are called product photo editor. They are capable to pix the photo and make the footwear pictures perfect and attractive. The photo editor can help the product photographers, studio and e-commerce product or shoe manufacturing companies. Bulk professional photo background remove service for e-commerce brand.
Retouching Zone outsourcing shoe image editing services all around the world. If you're looking photo edit for Amazon's editing requirement, we can help! We do background remove, retouching, shadow creation, color correction and more. We also work with e-commerce site, eBay, Shopify and Etsy. Our photo editor's are specializing in Kids, Women, Boys, Men's, Girls and sports shoe image editing services.
Why would you outsourcing product photo editing at Retouching Zone?
Professional shoe image editing services
Comfortable Service Pricing Work with Tight Deadline
 Professional product photo editor team
Bulk product photo editing production capacity
Client Satisfaction Past
24/7 Client Service and Quick Reply
Retouching Zone is open to you for judging our shoe image editing services quality, pricing and deadline of work. So, feel free to send your sample product images as a free trial. And, if you have argent deadline, our product photo editor team works always 24/7. So, email us or send us your images with your instructions.