Jewelry photography requires a specific set of skills to capture the beauty and intricacy of each piece. However, even with a good camera and proper lighting, jewelry photos can benefit from post-processing to enhance their appeal and make them stand out. Adobe Lightroom is a popular photo editing software that can help you fine-tune your jewelry photos and bring out their best qualities.
How to edit jewelry photos in lightroom?

In this article, we will explore the basics of how to edit jewelry photos in Lightroom. We will cover key editing techniques, such as adjusting brightness and contrast, color correction, and sharpening, as well as how to use Lightroom's various tools and features to create stunning jewelry photos. 
Whether you are a professional jewelry photographer or a beginner looking to improve your skills, this guide will provide you with the knowledge and tools you need to make your jewelry photos look their best. With the right editing techniques, you can showcase the unique beauty of each piece of jewelry and captivate your audience.
How To Retouch Jewelry Images In Lightroom
You can do a few specific things to retouch jewelry images in Lightroom and make them really shine. Step by Step guide has been discussed below.
Outsourcing High-End Jewelry Photo Retouching Services for Professionals.

Learn how to edit jewelry photos in Lightroom
Step 1: Download The Lightroom
If you're a photographer who edits their photos in Lightroom, then you know how important it is to have a reliable editing app. The Lightroom app is one of the most popular editing apps available, and it's perfect for those who want to edit their photos on the go. Here's how to download the Lightroom app and start editing your photos:
Go to the App Store or Google Play Store and search for "Lightroom."

Download the app and open it up.

Sign in with your Adobe ID or create one if you already have one.

Start editing your photos.
Step 2: Open The App And Sign In
Open the app and sign in with your Adobe ID. If you don't have an Adobe ID, you can create one for free. Once you're signed in, click the "Edit" button in the upper-right corner of the Lightroom interface. This will take you to the editing interface, where you can make global changes to your photo.
Step 3: Select The Right Photo
When it comes to editing jewelry photos, the first thing you need to do is select the right photo. This can be a difficult task, as there are often many photos to choose from. However, you can keep a few things in mind that will help you select the right photo.
First, take a look at the quality of the photo. Is it clear and sharp? If not, then there are better photos to use. 

Second, consider the composition of the photo. Is the jewelry prominently featured? Is it in focus? If not, then there are better photos to use.

Finally, think about how you want to edit the photo. Do you want to crop it or adjust the Exposure? 
If so, then make sure that the photo you select is high quality and has good composition so that your edits turn out well.
Step 4: Choose The Photo You Want To Edit
When you are ready to edit your photos, you first need to decide which photo you want to edit. In Lightroom, you can click on the "Library" module and then find the photo you want to edit in the collection of thumbnails. Once you have found the photo you want to edit, click on it to select it and then click on the "Develop" module.
Step 5: Use The Various Editing Tools To Improve The Photo
Assuming you've already imported your photo into Lightroom, you'll want to crop it first. 
You can do this by clicking on the "Crop" tool in the toolbar on the right-hand side of the screen. From there, you can use your mouse to click and drag around the portion of the photo that you want to keep. Once you're happy with your selection, hit the enter/return key on your keyboard to apply the crop.

Next, you'll likely want to adjust the Exposure. To do this, find the "Exposure" slider in the "Basic" section of Lightroom's left-hand panel. Dragging this slider to the right will make your photo brighter while dragging it to the left will make it darker. Again, take some time to play around with this until you're happy with how your photo looks.

If your photo is looking a little bit too blue or too yellow, you can adjust its "White Balance" using Lightroom's "Color" panel. Find the White Balance slider and drag it left or right until your photo looks more natural.

Finally, remember Lightroom's many other useful editing tools! For example, if there's a blemish or imperfection that you want to remove from your photo, you can use the "Spot Removal" tool. And if you want to add some artistic flair to your image, try playing around with Lightrooms.
Step 6: Save Your Changes
In order to save your changes in Lightroom, you will need to click on the "save" icon located in the upper right-hand corner of the screen. This will bring up a window where you can choose to save your changes as a new file or overwrite the original file. We recommend saving your changes as a new file so you can always return to the original if needed.
Share Your Edited Photo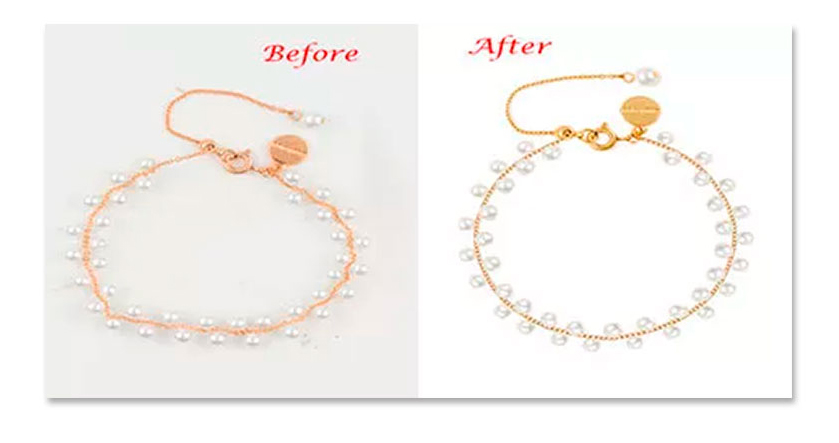 If you want to share your edited jewelry photo, there are a few ways to do it. You can post it on social media, email it to a friend, or even print it out and frame it.
When posting on social media, be sure to tag the jeweler or store where you bought the piece (if you have their permission). This is a great way to promote their business, and it may even help you get discounts in the future. 
If you're emailing a friend, include a link to the jeweler's website so they can check out the piece too. And if you're printing out your photo, consider framing it and giving it as a gift to someone special.
Conclusion
Editing jewelry photos in Lightroom can be a great way to enhance and make your pieces stand out. With the right editing tools, you can easily give your jewelry images an added touch of professionalism that will attract more potential buyers. We hope this guide has given you some useful tips on how to edit jewelry photos in Lightroom, from basic color corrections to advanced effects like vignettes and split toning.