A Clipping Path Service is a bit like digital scissors for your photos. Ever seen a product photo on a white background or a different background, and wondered how they did it? That's where clipping path comes in. It's a tool that cuts out objects or people from images so that they can stand out or be placed on a different backdrop.
For businesses, especially those selling products online, this service is a big deal. It can make products look professional and enticing to buyers. Think of it as giving your products a neat, clean appearance, just like you'd tidy up a shop window. For individuals, it's great for making personal photos pop, or even creating fun edits. In both cases, a quality clipping path makes all the difference – you wouldn't want your product or personal photo to look messy or unpolished!
Why Outsource Clipping Path Service?
Efficiency and expertise can often determine a project's success. While some tasks are best handled in-house, others require a specialized touch. Enter the world of outsourcing – a strategy not just reserved for massive corporations but an approach for businesses of all sizes. So, why should you consider looking externally for your clipping path needs? Let's dive into the benefits and reasons behind this savvy decision.
Expertise
Clipping path can seem easy but can get tricky with intricate objects. By outsourcing, you tap into a pool of professionals who do this all day, every day.
Time Saving
Imagine the hours you'd spend trying to perfect each image, especially if you have a bunch of them. Outsourcing means handing over the task to someone else, freeing up your time.
Cost-effective
Hiring a full-time graphic designer can be expensive. Outsourcing lets you pay only for what you need, which can be way cheaper in the long run.
Quality Assurance
Many outsourcing companies have strict quality checks. You're ensured a consistent, high-quality result every time.
Flexibility
Got a sudden influx of images to edit? Outsourcing allows you to easily scale up or down based on your needs without the hassles of hiring or training staff.
By using someone else to handle your clipping path needs, you're not just buying a service, you're buying time, expertise, and peace of mind. Whether you're a business owner wanting top-notch product photos, or an individual looking for that perfect shot, outsourcing can be your secret weapon to get there!
Choosing the Right Clipping Path Service Provider
With the ever-growing digital image industry, the detail and precision of your visuals can make or break the message you're trying to convey. As such, the importance of a clipping path cannot be overstated. But with a wide range of providers claiming to be the best in the business, how do you navigate through the noise to choose the best clipping path services providers? Let's explore some factors to consider when you are choosing the right provider.
Portfolio Review
Before anything else, check their previous work. Does their clipping path quality match what you're looking for? A robust portfolio usually indicates experience and skill.
Client Testimonials
What are other customers saying? Reviews and testimonials can give you a hint of the service quality and customer satisfaction.
Turnaround Time
Time is often of the essence. Ask about their delivery times and whether they offer express services if you need something done in a jiffy.
Customer Support
Responsive and helpful customer support is a hallmark of a reliable provider. It's always comforting to know there's someone available to address any concerns or queries.
Pricing
While you shouldn't compromise on quality for price, ensure their rates are competitive. Some providers offer package deals or discounts for bulk orders, which can be a bonus.
Security Measures
It's essential that the service provider respects your confidentiality. Ensure they have robust data protection measures in place to safeguard your images and any other data.
Free Trial
Many providers offer a free trial or a sample service. This allows you to test their quality before committing fully.
Technology & Tools
The tools and software they use can impact the result. Providers using up-to-date and industry-leading software are likely to deliver top-notch results.
Capacity to Handle Bulk Orders
If you have a large volume of images, ensure they have the bandwidth to manage and deliver without compromising on quality.
Remember, every clipping path service provider will promote themselves as the best. But by focusing on these points and doing a bit of homework, you can find a partner that aligns with your needs, ensuring the best results for your images.
The Process of Outsourcing a Clipping Path Service
Outsourcing a clipping path service can seem daunting at first but breaking it down step-by-step can simplify the journey. By following a methodical approach, you ensure that you receive the highest quality work without unnecessary hiccups.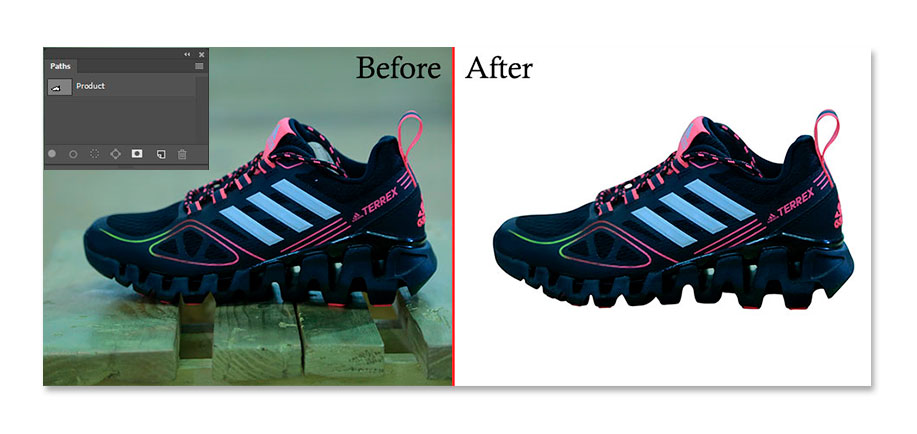 1. Defining Your Needs
Begin by clearly identifying what you need. Do you require simple clipping paths for straightforward images, or are your images more complex with intricate details? The type of image and the desired outcome can influence which service provider is best suited for the task.
2. Research and Initial Contact
With your requirements in hand, start researching potential service providers. When you've shortlisted a few, initiate contact. This preliminary communication can give you insights into their professionalism, responsiveness, and eagerness to serve.
3. Requesting a Sample
Before fully committing, it's a good idea to request a sample. This isn't just about assessing the quality of their work; it's also about gauging how they handle feedback. Are they open to adjusting? How quickly do they respond to revision requests?
4. Discussing Turnaround Times and Pricing
Once you're satisfied with the sample, get into the details. How long will it take them to process your batch of images? And at what cost? It's essential to strike a balance between speed and price, ensuring you get value for your money without unnecessary delays.
5. Providing Clear Instructions
When you're ready to send over your images, ensure your instructions are as clear as possible. The more specific you can be about your expectations, the better the outcome. If possible, provide reference images or previous work examples to illustrate your requirements.
6. Review and Feedback
Upon receiving the completed images, take the time to review them closely. If there are any discrepancies or areas of improvement, communicate them clearly. A good service provider will be willing to make the necessary adjustments to ensure client satisfaction.
7. Finalizing and Payment
Once you're satisfied with the final product, complete the payment process as agreed upon. Ensure you keep all transaction details for future reference.
8. Building a Relationship
Remember, if you're pleased with the service, it's worthwhile to build a long-term relationship with the provider. Regular clients often benefit from discounts, faster turnarounds, and a smoother workflow due to familiarity.
Outsourcing doesn't have to be a leap into the unknown. By following these steps, you'll have a clear roadmap to navigate the process efficiently and with confidence.
How to Outsource Clipping Path Service for E-commerce Effectively?
Choosing a photo editing service based solely on the cheapest price per image isn't wise. Such low offers often fail to deliver as promised, and it's essential to consider the overall operational cost.
Successful outsourcing, especially in photo editing, is about the full cost it bears on you. This isn't just about the price per image, but also about efficient management, timely delivery, workflow smoothness, maintaining a good reputation, and ensuring top-notch image quality.
Simply put, even if you're paying a mere 10¢ per image, it's not worth it if the quality is poor, the delivery is delayed, and rectifying the issues demands excessive communication.
When considering outsourcing your photo editing, make sure to evaluate potential services with these factors in mind.
Retouching Zone is leading provider of Outsourcing E-commerce Product Photo Editing and Retouching Services for Professionals.

Questions you should ask any Outsourced Clipping Path Services
Can you walk me through your client on-boarding procedure?
Absolutely. Once you express interest, we initiate our systematic on-boarding process which includes understanding your requirements, introducing you to our team, and setting up the necessary tools for seamless collaboration.
How can I share my style preferences with you?
You can upload your style guide or detailed preferences through our online portal. Additionally, we're open to consultation calls to better grasp your specific needs.
How can I get accustomed to your operational platform?
We offer tutorials and hands-on training sessions for our proprietary platform. Our dedicated client support will assist you in navigating and utilizing our system efficiently.
Do you incorporate technological solutions in your processes?
Yes, we leverage the latest technological solutions to enhance the efficiency and quality of our services.
How should I convey my editing requirements for photos?
You can provide specific editing instructions by attaching a detailed brief alongside your images.
What mechanisms do you have in place for maintaining uniformity in edits?
We employ standardized protocols and regular training sessions to ensure that our team consistently delivers edits that align with your style and requirements.
What's the procedure for expedited delivery requests?
If you require a faster turnaround, just mark the order as "urgent" on our platform, and we'll prioritize it accordingly.
Are there tools or features for reviewing and approving edited images?
Yes, our platform provides a review option, you can view, approve, or request changes for each edited image.
Can you accommodate my evolving volume requirements?
Absolutely. Our infrastructure and team size allow us to scale our operations according to your evolving needs.
Do you specialize in Photoshop hand-made clipping path service?
Yes, hand-made clipping path service is one of our key areas of expertise, ensuring products shine online.
How do you ensure the well-being of your staff?
Our employees are our strength. We offer them continuous training, fair wages, and a healthy work environment.
Is it possible for clients to visit your facility?
We welcome client visits. Just let us know in advance, and we'll arrange a guided tour for you.
Who is responsible for editing my images directly?
Your images are handled by our team of trained professionals. Each image goes through a streamlined process, overseen by senior editors to ensure quality.
The Final Edit
At Retouching Zone, we advocate for ethical business practices and collaborate with international sustainability groups. We stand firm on four core beliefs that everyone should have:
Valuing individuals over mere statistics.
Building strong, lasting relationships is key to business success.
High-quality results stem from nurturing talent.
Honesty, especially with oneself, is essential.
Conclusively, by outsourcing photo editing, teams can save money, boost efficiency, and focus on strengthening their online brand image. It's vital to choose a service that's transparent about their clientele, community contributions, pace, and precision. If they're not forthcoming with this information, proceed with caution. Their capacity to swiftly process large batches, such as 3000 photos, can also hint at their compatibility with major studios or high-volume photographers.
Lastly, think about using Retouching Zone for photo editing. We've worked for more than 10 years to change the photo touch-up business with online stores.