An image ghost mannequin effect service is a cool trick for adding to an existing photograph. This tutorial will walk you through Photoshop's steps to create a realistic-looking 3D effect. Image Ghost Mannequin Effect Service
In today's digital age, the way businesses showcase their products has become increasingly important. With the emergence of e-commerce, product photos are essential to a successful online store. While it might seem simple enough to take a few pictures of your products and post them online, there is an art to creating compelling product photography that stands out from competitors. 
One way to do this is with the image ghost mannequin effect service. This technique uses invisible mannequins to create 3D product images for online stores. In this article, we'll discuss the image ghost mannequin effect service and how it can increase sales and reduce costs for your business.
What Is The Image Ghost Mannequin Effect Service?
The image ghost mannequin effect service removes the mannequin or model from the product image to create a "floating" effect. This is done by carefully editing the image to remove the mannequin or model from the background. The result is an image that makes it appear as if the product is floating mid-air.
This service is often used for e-commerce product images, giving the product a more premium look. It can also be used for fashion and lifestyle images to create a more editorial look.
The image ghost mannequin effect service is a great way to make your products stand out from the competition. It can also create a more premium look for your images. This is the service for you if you want a way to make your images look more professional.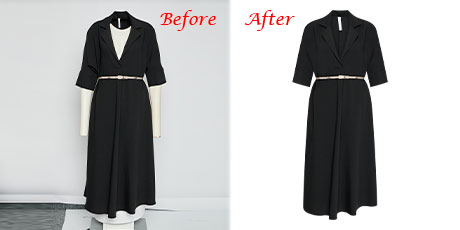 How Can This Service Be Used?
This service can create a ghost mannequin effect for your images. This is perfect for product photos, as it gives the product a three-dimensional look without needing a physical mannequin. The ghost mannequin effect can also be used for fashion photography, allowing you to create photos that show off the clothing in a more realistic way.
What Are The Benefits Of Using This Service?
There are many benefits of using our image ghost mannequin effect service. This service allows you to create a professional-looking product photo without needing expensive equipment or Photoshop skills. This is perfect for online retailers who want to showcase their products in the best light possible.
Our quick, easy, affordable service will make your product photos look amazing. You won't have to worry about reflections or glare, and your photos will have a clean, polished look that will make your products stand out from the competition.
How To Get Started With This Service?
Our image ghost mannequin effect service is easy to use and can help you achieve a professional look for your product photos. Here's how to get started:
Choose the right image: Make sure you select an image that is clear and good quality. This will ensure that the final result is professional and polished.

Edit the image: Crop the image so that it is focused on the product. Then, use our editing tools to remove any background clutter or distractions.

Add the ghost mannequin effect: Select the "ghost mannequin" option in our online editor and upload your image. We will automatically create the effect for you.

Download and save your image: Once you are happy with the results, download the edited image to your computer or device.
How Digital Mannequins Can Be Used For Your Business.
Digital mannequins are versatile tools that can be used for various purposes in your business. For example, you can use them to create virtual fitting rooms, display products in an interactive way, or even create a custom mannequin that represents your brand.
You can use digital mannequins to benefit your business in many different ways. Virtual fitting rooms are a great way to allow customers to try on clothes without having to be in the store physically. This can be a great way to save time and money and increase customer satisfaction.

Another great way to use digital mannequins is to display products interactively. This can help customers better understand the product and make informed decisions about whether or not they want to purchase it. This can also be a great way to increase customer engagement and loyalty.

Finally, you can also create a custom mannequin that represents your brand. This can help customers identify with your company and build a stronger connection with your brand. Additionally, this can also increase brand awareness and visibility.
FAQs
Here are some FAQs has been answered.
How Important Are Mannequins In A Display?
Many people are likely to need to remember the importance of mannequins in a display. A mannequin is one of the most important pieces of furniture on display, and with them, it can be easier to tell the difference between what is real and what is not.
How Does A Ghost Mannequin Work?
Ghost mannequins are popular among businesses and families alike because they are easy to use and provide a realistic appearance for your objects. You will need supplies and a little time to create a ghost mannequin or neck joint service. 
First, ensure that your object is large enough to accommodate a ghost comfortably. 
Next, cut out the shape of the ghost using tracing paper or masking tape. 
Finally, paint or stain the figure in any desired color. Once complete, place the Ghost Mannequin in an appropriate location and enjoy your new addition.
Can Ghost Mannequin Be Used For All Products?
Do you want to be able to use your ghost mannequin in all products? If so, the answer is yes. Ghosts can be used for both product and concept demonstrations. Using a ghost mannequin, you can create realistic displays with customers asking you questions. Additionally, incorporating a ghost mannequin into your marketing materials can create a more unique and memorable experience for your customers.
Conclusion
Ghost mannequins are a great way to bring your product visuals to life and give shoppers an up-close look at the item. The service is simple, cost-effective, and can be done quickly with the help of image ghost mannequin effect services. With this service, you can showcase all angles of your products without having them physically in the frame – an easy and practical solution for any eCommerce store.