Outsourcing product photography editing is very important for retail online shop. Photo quality is helpful for product seals most of the time. Also picture editing is helpful for website SEO. So business owners need to help product photo editing company like Retouching Zone.
After completed eCommerce product photography, image editing is mandatory for online store. And there are bulk images in e-commerce sites, which take lot of time for picture editing.
And different types of markets place demand different editing criteria. If you are a shop owner in Shopify, Woocommerce, BigCommerce, Big Cartel, Yo!Kart, Magento, Prestashop, Weebly, Squarespace etc. Or you have a host on marketplaces like: Amazon, AliExpress, Ebay, Flipkart, Etsy, Taobao, Rakuten and more.
You can increase your product sales by decorate images nicely. Retouching Zone outsourcing product photography editing for e-commerce. And others bulk professional image editing services. We provide bulk amount of high-end photo retouching service within a short time. Our e-commerce photo editor's team is experts in product image editing. And most of our client are happy and works with us long time relationship.
Product Photography Editing for E-commerce

Our eCommerce photo editor's team has a lot of experience in product editing. We are well known about e-commerce image quality and cheap price in a tight deadline. Retouching Zone provides best e commerce product photo editing services. Outsourcing product photo editing services for photographer's and e-commerce brand.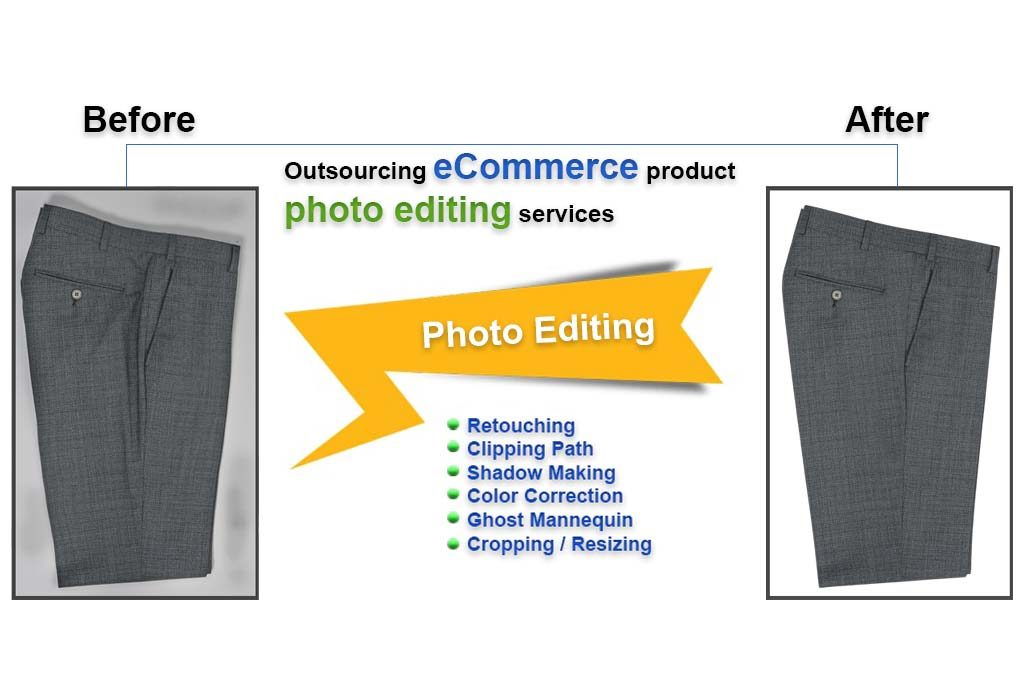 Background Remove: Image background remove is an easy way of image editing but it is essentials for e-commerce. Therefore, our eCommerce photo editor's team is providing this service to you. Retouching Zone provides simple, compound, complex and even super complex image editing.
Photo Retouching: Remove camera reflection or unwanted object on product images. And clear the dust and enhance the images with retouch. We are specializing in photo Fix, picture enhancement and retouching.
Ghost Mannequin: Neck joint or ghost mannequin is a process of image manipulation. Adjust inside the photo and make complete images then displayed on e-commerce site. These types of photo editing are for retail business site.
Shadow making: In every e-commerce site, there must require shadow creation. When photograph any product image there will be a shadow. And create a shadow in white background images.
Color correction: Color correction or adjust lighting is common editing in an e-commerce image. If the color of images comes out inappropriately, need to edit it. Our eCommerce product photo editing task is to reconstruct it. And change any color of images.
Cropping / Resize: E-commerce images need to same size for all images. And Retouching Zone does all the images crop/resize perfectly. Also market place requirements like 1000 pixels or larger for Amazon. Cropping image product fills out 85% or more of the image.
The Best Photography Editing Services

Retouching Zone is the best e-commerce product photo editing services Provider Company. Bulk amount of B2B images are outsourced to "Retouching Zone" from businesses in different countries. We are the leading service provider in worldwide.
We are the leading jewelry photo retouching service provider in worldwide. The main objective of jewelry photo editing is to make it more attractive, brighter and shiner. Our job is to find unwanted object in the product images and fix those by Photoshop tools.
Our professional photo editors can support you with professional furniture image editing. And we are able to work with different images format.
Food product photo editing is the freshly captured food photographs for e-commerce. Fix the photo exposures, contrast, light and color patterns etc. And removing the unwanted objects of images overall quality of the photograph.
Clothing images are so valuable for retail shop and able to drag people into their businesses. And all of the e-commerce sites require bulk amount of image editing. It often takes a lot of time for photo editing. So, e-commerce based businesses around the world use clothing product photo editing services.
Outsourcing Product Photography Editing Services

Our professional photo editor team is work 24/7 by shifting duty. So, if you outsource images with us, you will back job done with professional quality images.
We provides professional eCommerce image editing services. Our customer support team work 24/7 dedicate. So you can get update about quality, time, pricing, discounts etc.
Retouching Zone has update tools for providing e-commerce product photography editing services. We have update version of Adobe Photoshop, Adobe lightroom, Adobe Illustrator etc. Retouching Zone never compromise with image editing quality.
We accept PayPal, MasterCard and Bank Transfer etc. Our price per image is starts from $0.29 depending on the complexity. Discounts are available for our regular client and bulk amount of order. We can save time and money at the same point, isn't it sounds great?
So, let us know if you have any confusion about outsourcing product photography editing services. Our product photo editor team is work 24/7. You can rely on us for professional e-commerce image editing services. We offer 6+ image as a free trial for our new client's.