Outsourcing photo editing services can be a game-changer for businesses looking to save time and resources while still achieving professional and high-quality results. Here, we will explore the benefits of outsourcing photo editing and how it can help businesses streamline their workflow and enhance their visual content.
Whether you're a photographer, e-commerce business, or marketing agency, Outsourcing Photo Editing Services can be a valuable solution to consider.
Why Should You Photo Editing Outsourced?
E-commerce product images is very important for retail online shop. Best quality is helpful for product seals most of the time. So, business owners are Outsourcing Product Photo Editing Services for e-commerce brand.
We found 13 reasons to outsource images for editing. Moreover, we explain some important things to evaluate a new team of editors.
So, before you set up a long-term business relationship with the photo editing services provider, take a glance at them.
13 Reasons to Outsourcing Photo Editing Services for E-commerce
You want to Expand your Business.
Expanding is the ultimate goal of a business. But it seems hard to expand when your larger part of management goes with image editing, and you are stuck there. It is also time and money-consuming to recruit and train new employees.
Besides, clients are giving you a hard time in delivering your project. In that case, what to do but outsource image editing service?
Many companies, including large companies, outsource photo editing jobs to keep them busy handling and to increase their clients. It also helps them manage their employees and quality of work better.
Photographer's Bandwidth is Limitless.
If you are in the editing business, you already know that your photographer can take more pictures a day than you can edit per day. That means you need many editors to handle the pictures of a single photographer. You have two options in that case:
Hire many new editors
Outsource image editing services
Not to mention that the second option is much easier and cheaper.
Having a tight Deadline during the Peak Season of your Business.
Clients often give us new jobs to do with a tight deadline. This happens more when your business is at its peak. You get more and more clients, but you have limited resources.
Should you deny your client?
Not at all.
The best solution to meet the tight deadline and get new clients is to Outsource photography editing services. It will help you handle all the deadlines at once to keep your clients happy. And we all know that when clients are happy, our business flourishes.
Your Post-Production Team Costs more than a Remote Team.
One of the main strategies to make your business successful is to reduce costs. But maintaining a post-production team to edit photos costs huge. Especially when you need to employ different experts for different expertise of editing.
A remote team or editing agency can solve your problem and save you a lot of money. This will maintain the quality without costing you more. Consequently, your business revenue and profit will be higher than ever.
Your Time is more Valuable than Image Editor's.
When running a photo editing business, it is mandatory to monitor every edit your editor makes. This is a common concept of creative business. You cannot shine without having a good monitoring ability. But the problem comes when you must monitor and instruct the editors too much. Maybe for the tight deadline or the overload of work. This wastes your valuable time and hampers your work-life balance.
Remember your time is more valuable than your editors. But without giving the time, you cannot get the work done to satisfy yourself and your clients properly. The best way to solve the problem is to outsourcing photo editing services. You can get enough time for your family yet satisfy the customer.
Avoid Overtime for Image Editing.
Most of us think that photography or editing is a perfect job to maintain a work-life balance. You can pursue your passion yet get enough time for yourself. But the truth is not that. Many editors or photographers work overtime.
This is for work overload, lack of enough employees, or tight deadlines. No matter what, overtime is common. But you can avoid this problem by simply hiring an editing agency. It will prevent you from overtime and make your life more relaxed.
Repetitive your Editing Sucks.
Photo editing is creative for sure, but there are some repetitive works as well. For example, you have background removal, adding shadows, and others. Doing these kinds of repetitive editing makes you feel bored and tiresome.
But here is the important part.
Boredom is not the main problem here. You can do some really creative and much more valuable editing in the meantime. Outsourcing photo editing services can solve this problem. Give it to the agency to do the repetitive tasks, and you do the creative part to add more value to the clients.
You need to Curtail the Turnaround Time.
Everyone wants fast delivery. When I am a client, I always expect faster delivery. The same goes for your clients as well.
But how is this possible when you have a lot of work to do with your team?
You are losing a chance to impress your clients with faster delivery, right?
The best way to solve the problem is to hire a photo editing service provider. It will curtail your turnaround time. This is not about making your clients happy only, you can make yourself happier as well when delivering fast.
You are not that much Expert in some Areas of Editing.
There's a proverb that jack of all trades master of none. That means if you know everything, you know nothing more about a specific topic. The same goes for editing as well. It is very common that you are not experts in all areas of photography editing. But what if you get orders from your clients or business to do those tasks that you are not good at?
You are getting my point, right?
Should you refuse the client? If you do so, chances are really high that your clients will not come back to you for the next projects.
The solution is simple, photo editing outsource, and you focus on the photography or delivery only. It does not matter whether you or your teammates are good at some areas or not; you can always get some experts from agencies. Outsourcing product photo editing services for eCommerce.
Focusing more on Business Growth Hacking.
Business relies on two things – skill and marketing. No matter how master you are at something, if you do not know how to grow your business, you suck.
But how do you focus more on growth while you are busy shooting and editing?
You cannot focus on both things at once. And without growing, your skill will not flourish that much. On the other hand, if you cannot maintain the quality, focusing on the growth will not work at all.
Sounds like a paradox, right?
But you can solve the paradox by taking help from freelancers or agencies. Let them handle the editing, and you focus on business growth.
You are Stuck in the Middle of Managing Competitive Landscape.
One of the main reasons why smaller companies cannot grow well is the large companies. Yes, you have heard it right. The other companies in your photo editing industry might offer so much expertise that your team or business cannot.
Giving all that expertise to your clients is mandatory to handle the competitiveness and not get kicked out of the business. But as a new or small company, you might not be able to hire so many experts at once to satisfy all the needs.
The only way you can level the playing field and stay in business is to hire a third party to get your job done regardless of the expertise.
Sometimes, you Face Seasonal Fluctuations.
Every business has some seasons when the sales increase a lot. For example, during the summer, the camping business grows really high. On the other hand, during the winter, the fishing business becomes really low.
Fashion brands become more active during Christmas, holidays, or spring. Besides, they bring more warm clothes during winter. These particular seasons are a blessing for some particular businesses.
Along with the business nourishment, the demand for photo shooting and editing also increases. You may have heavier loads compared to other times in the year. Depending on the geographic location, you will certainly experience seasonal fluctuations. You can outsource the editing to survive it and handle all the pressure.
Creativity is a Bedrock in Business, and You Are Stuck There.
Photo editing is a creative work; we all know that. This is not something you can do even when you are bored or not interested.
In that situation, two things can happen.
Stop working
Do the job low quality
Both the options will make your business dumb. You will lose your clients as well as their trust. Put your feet in your clients' shoes and see that you would do the same if you were clients. To avoid business loss, outsourcing product photo editing can be a great solution. It will keep your clients happy and give them a chance to bring back your creativity.
When Should you not Consider the Outsourcing Photo Editing Services?
Increase ROI
Save money to increase revenue
Let your in-house employee work in other creative tasks
Ensure quantity along with quality
Quick photo delivery
You know there are some Reasons that you Should Forget about Outsourcing, Right?
You have plenty of time to cull your images by yourself.
If editing needs so much creativity and only you are comfortable with that, then you should not opt for a third party.
Even though you found someone, your editors have some cons. For examples:
You can't afford the outsource an image editing service provider
The third party takes a long turnaround for your images
The service provider has no responsive support team
Image Editing Outsourcing Process for Professionals
If you have three types of editing work, then don't just forget any of them. For example, you need retouching, clipping, and shadow-making works, then try with three images for them.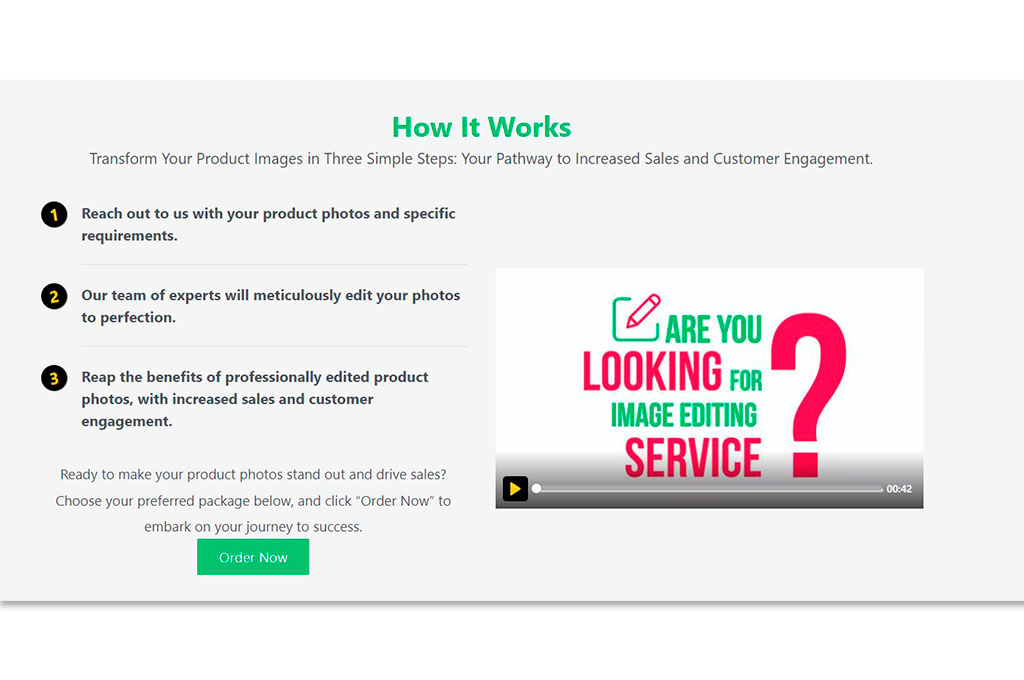 Type of Image Editing Can Help you with Outsourced?
Not all types of photos you need to outsourced. Here we recommend the following types of photo editing outsourcing for your eCommerce businesses:
Eye-wear image editing
Footwear image editing
Jewelry product image editing
Fashion product image editing
Automotive image editing
How much does it Cost to Outsource Image Editing Services?
The cost of outsourcing photo editing services depends on many things, including
Complexity of work
The nature of the edit
Types of photos
Turnaround time
Volume of the images
Bringing them together, the cost for outsourcing product photo editing services will be on average:
25¢–$02 per Images from Start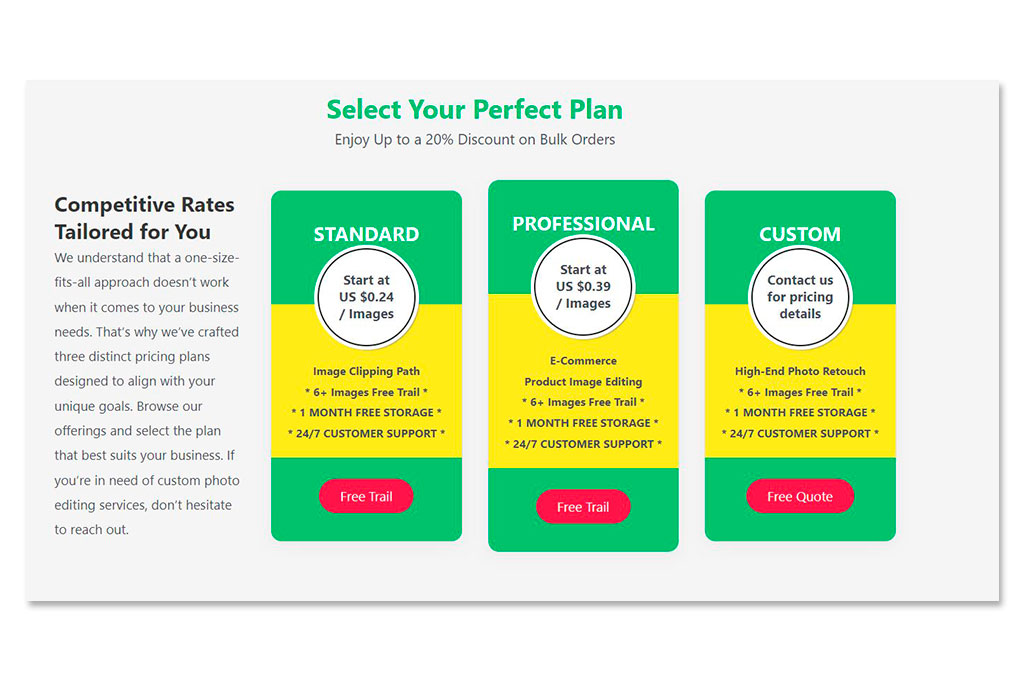 What are Including in E-commerce Product Image Editing?
Clipping Path:
We create images that do not look as if I had edited them because we make images that have perfectly hand drawn clipping paths. And we know that in clipping path, it is essential to give the detailed attention it is required for a lifelike image.
If you need perfect and precise clipping paths and photo cut-outs. So, your consumers will feel attracted to buy your products and clients will love your photos. Also, our small attention to each detail makes impressive and realistic-looking images.
Retouching Zone uses the Photoshop pen tool to hand draw every Clipping Path Service and achieve for you clean, polished edges on all your images. When you come to us for a photo editing service, you always get accurate, clean clipping paths regardless of the role images play in your work. And we pride ourselves in delivering best clipping path service.
Ghost Mannequin:
Maybe you have a fashion retailer and you need to bring your product to life by showing real people wearing and using your product. When live models can be expensive and difficult and unreliable, you can use a mannequin but don't like to showcase the mannequin.
Then the only good option left for you is using a Ghost Mannequin Photo Editing Services. And it does not matter if you need the entire mannequin. Or just a neck or a joint our professional image editing services will give your product the required depth you always wanted.
This will give your products a natural touch that will appeal to your consumers and enable you to sell the best quality images.
Background Removal:
Most of the online marketplaces like amazon and eBay require you to use product photos on a white background. We understand also that Photo Background Removal Service are not for just white backgrounds.
Also we can also do single-color backgrounds for ads or other creative product photos. And our hand drawn clipping path make sure you have the background of photos removed. Which capture the details of your products and makes consumers click to buy them.
Shadow Creation:
If the photographs of your products look good, it will attract more consumers and increase your sales. Always remember that today's consumers are smarter than ever before as they are seeking higher-quality experiences.
So, your product photography has to meet that challenge. And we help your product photographs to be more visually appealing to your consumers. And Shadow Creation Service helps make your images nice and professionally shot product photos more realistic and attractive.
We help you create visual effects through drop shadow, natural shadow, floating shadow, cast shadow, or reflection shadow.
Photo Retouching:
We know that every photo does not come out perfectly. And no matter how skilled the photographer may be. There are a thousand things that can go wrong. Like not enough lighting or a dented product just before a photo shoot, with no time for a replacement.
Here, we understand whatever the circumstances, maybe our product Photo Retouching Services can help you get the right texture or enhanced natural colors you want. And our professional photo retouching services help you save time, stay on budget and on schedule.
Color Correction:
Product photo color variations are needed if you want to add a new color to an existing product line. And don't have the time or budget to shoot all the products.
This is usually true for large e-commerce retailers and photographers who need Color Correction Service to create a positive customer or client experience. This not only saves you time and money but guarantees that you increase sales and revenue.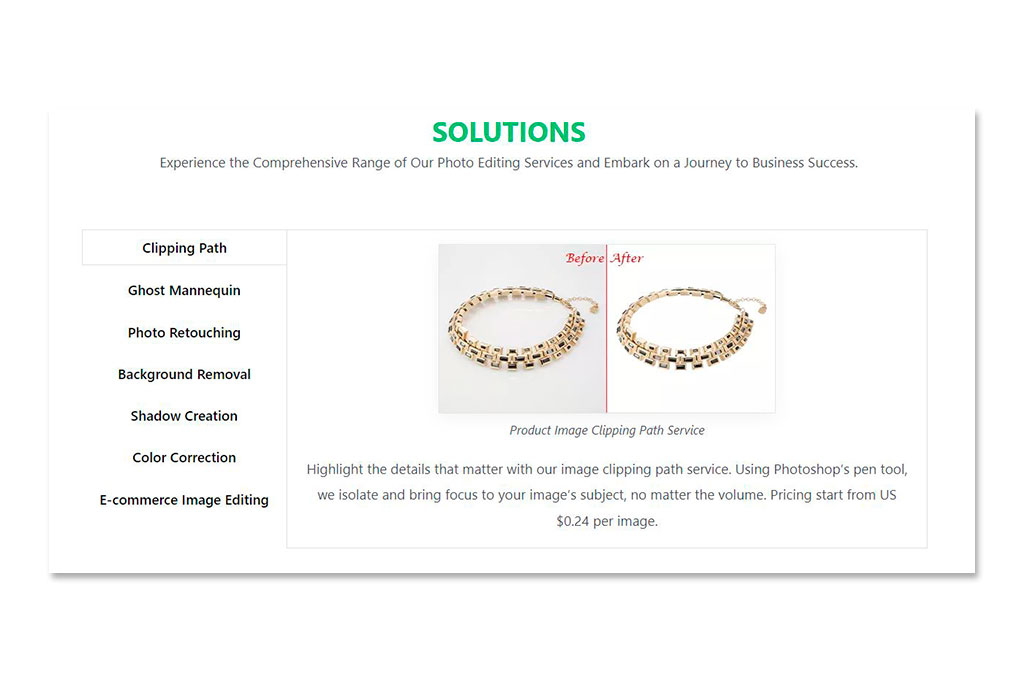 Why Choose Retouching Zone for Photo Editing Outsourced?
You already know when and why you should be Outsourcing Photo Editing Services. But picking a good agency or service is really tough. Retouching Zone comes to solve the problem. Here are the reasons why you should choose the Retouching Zone for your photo editing outsourced.
Experienced Service Provider
Experience is something that you cannot buy with money. Besides, expertise comes with experience. The good news is, Retouching Zone has more than 9+ years of experience in this sector.
That means they know what is best for business. This experience will help you grow your business like never before.
Trusted Quality
Quality is the ultimate goal of everyone. You should not or must not sacrifice quality at any cost. This will bring your company into disrepute.
Retouching Zone understands this, and they promise quality over quality. You will get professional quality editing regardless of the quantity. It will improve your company's reputation while letting you focus on your work more.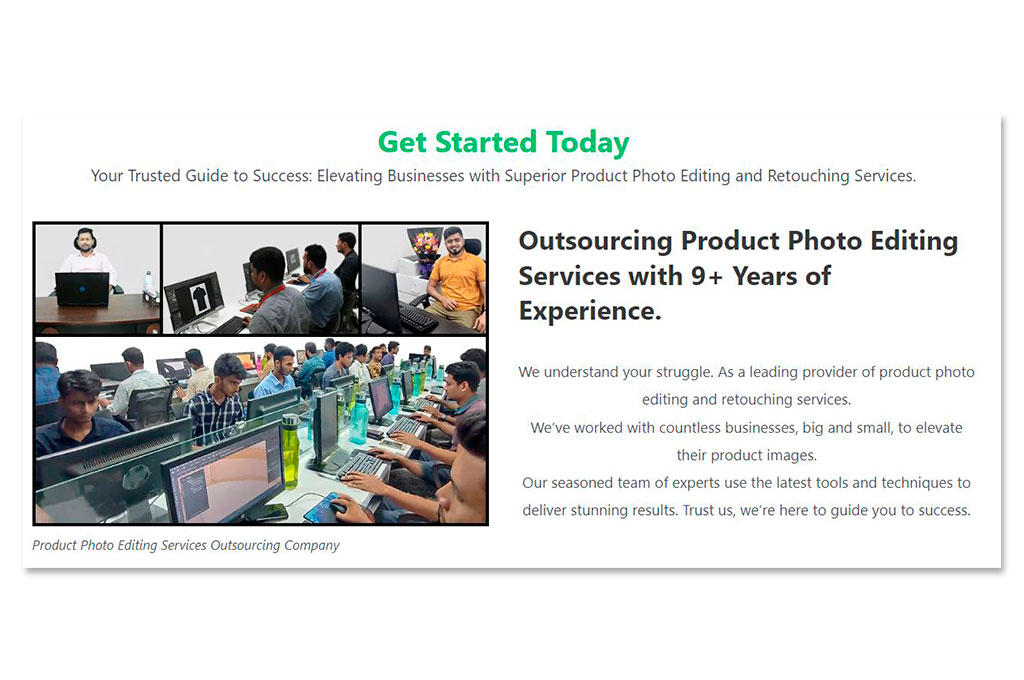 Offers Versatile Editing Options
E-commerce business requires different types of editing. And that is exactly what the Retouching Zone offers. You will have the following editing options.
Clipping Path Service
Photo Retouching Service
Background Removal Service
Ghost Mannequin Service
Shadow Creation Service
Color Correction Service
Cropping / Resize Service
As you can see, they cover almost everything needed to make your business successful. No matter what type of editing your clients or businesses demand, they have it covered.
Ensures Privacy
One of the major disadvantages of outsourcing photo editing is privacy. You cannot rely on someone who will not publish or sell your hard-taken pictures to others. This is a serious matter.
If your clients' pictures get licked, no matter how, they can even sue you and destroy your business. Retouching Zone comes to solve the problem with the full promise of privacy. They offer full privacy of your clients' pictures.
Faster Delivery
Last but not least, Retouching Zone offers faster delivery regardless of the picture amount. We have a dedicated team to work on the projects to deliver faster without sacrificing the quality.
Conclusion
If you want to impress your clients and boosting seals, outsourcing photo editing services is a great option for you. Then you must need a professional service provider's help like Retouching Zone.
Table of Content
Why should you Photo Editing Outsourced?
What are the main Reasons to Outsourcing Photo Editing Services?
13 Reasons You Need to Start Outsourcing Photo Editing
When Should you not Consider the Outsourcing Photo Editing Services?
You know there are some reasons that you should forget about outsourcing, right?
Why Choose Retouching Zone for Photo Editing Outsourced?
Conclusion